GOLD COAST AND NORTHERN NSW ART AS HEALING WORKSHOPS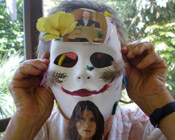 Cost: $375 for 6 sessions + art materials
A Non Refundable Deposit of $50 is required to secure your place (max 6 people)
Lorraine has been conducting Art as Healing Workshops for over 5 years and works with Transpersonal Art Therapy techniques. The workshops are suitable for professional or personal development, also for anyone wishing to articulate into art therapy studies. Lorraine is a practicing professional artist who incorporates the philosophies of the transpersonal in her own artworks.
In the 6 sessions we explore the mythical landscape of our own 'Inner Self' using a variety of creative techniques. Through Transpersonal Creative Art processes, we create a safe space to assist an intimate group (max 6 people) with navigating the inner landscape- building a bridge to the Self….exploring your true potential and making sense of challenges or patterns that might be blocking those desires from manifesting.
With an appreciative, amplifying approach, through creative expression, be it with making a picture, collage, a clay work, movement, dream story, masks …etc., allowing access to personal medicine, symbols and the magic for transformation. A person becomes more 'present' and aware and is reminded of their personal power to change direction, to grow and understand more the meaning in our lives.
GOLD COAST AND NORTHERN NSW ART AS HEALING WORKSHOPS

Art As Healing Workshop Weekend
Facilitator: Lorraine Abernethy

When: Contact us or see Facebook for dates
Where: ABERNETHY STUDIO Bilambil Heights
Enquiries Phone: 0402 408 800
Email: info@lorraineabernethy.com.au
The workshops are designed for small groups. It is important to note that one need not have had any art training / background to participate in this program.
Using the basics of art you will begin your journey of discovering your personal awareness and insight. Through the experiential process you will be encouraged to find your essence and authentic self to fully engage in your life's journey.
workshops may be of benefit to anyone who finds themselves in a place of questioning, a cross roads of life, a need for understanding life's challenges, connecting to the hero in your own "Hero's Journey".
A number of exercises using different art materials, eg collage, pastels, pencils are employed to create  MANDALAS, DREAMWORK, MASKS, BODY MAPPING, VISUAL MEDITATION and MYTHS. MOVEMENT and VOICE are another way to assist in awareness.
Through appreciation and the unfolding of images we are able to make sense and gather insights into our unconscious, making it conscious, and being in a fully awakened state.
AS JOSEPH CAMPBELL SAYS:
THE GOAL OF LIFE IS TO MAKE YOUR HEARTBEAT MATCH THE BEAT OF THE UNIVERSE.
Art as Healing Workshops – "Since working with Lorraine and Art Therapy 2 years ago I have gained personal insights and tools that have assisted me in many ways.
I stopped smoking after 35 years of habitual daily use, and I feel positive and happy and I no longer suffer depression and negative mind sets. The strong, subtle changes have changed my life and I thoroughly recommend her gentle, supportive workshops." Dianna S.
Gold Coast Art Classes and Northern NSW Workshops